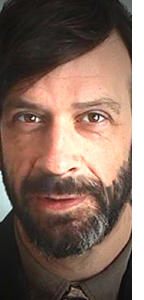 Education
School

Graham left school just before his 17th birthday with 8 "O" Levels (equivalent to GCSEs) and 4 A levels, in Maths, Further Maths, Chemistry and Biology.

University (1972 - 1976)

After a "gap" year, Graham took a 4 year (sandwich) honours degree course in Computer Science at The City University and qualified with a BSc (Hons).

Professional courses

Graham has attended many training courses over the years, including personal development courses. Technical courses have included Unix (Solaris) courses, and "masterclasses" presented by Larry Wall (author of the Perl language) and other such famous names.

Career History
Although Graham's educational qualifications are listed above, he's a great believer in the value of practical experience too. Starting with a gap year between school and University, he's been immersed in a wide variety of roles with many different organisations, and those roles have shaped his knowledge to make him the font of information that he is today. For sure, we don't program computers by toggling in the program on switches any more, but it's immensely useful to Graham's experince that he has done just that.

Seismograph Service Ltd (1971 - 1972)

Graham worked at Seismograph service as a coder for most of his gap year before University. It taught him many computing and computer graphics basics from "the ground up", and gave him an insite into Geophysics and oil exploration.

Seiscom Ltd (1972 - 1976)

Before university, part time during his course, and for his sandwich experience, Graham worked in the operations room and then on the programming team for Seiscom, another company who were involved in Oil Exploration. Projects undertaken included the automation of the tape library records (some 60000 magnetic tapes had to be managed), and writing a seismic trace display program for a pen plotter.

Civil Service Department (1974 - 1976)

Industrial placement during university course, then part time during final year back at University. Wrote parts of Manpower forecasting software (modelling the grades, ages and promotion flows within the civil service) to the specifications provided by statisticians and mathematitians.

Tektronix Inc (1976 - 1981)

Technical Support (Software) specialist for Computer Graphics products in UK. Mainly concerned with implementation of graphics drivers on a wide range of operating systems, and pre and post sales customer support. Also involved in training the sale team, and supporting the newly introduced graohic computers wth Basic langauge interpretters.

As a career move within Tektronix, took a sales territory selling the Computer Graphics products in Wiltshire, Avon, Somerset, Devon and Cornwall; turned a mediocre territory into the best in the country.

CGL Ltd (1980 - 1988)

Left Tektronix to set up a startup CAD company, writing software initially for the Textronix 4054 Desktop Computer. We moved on to rewrite the software in Fortran, then a mixture of C, Fortran and Assembler, to run on PDP11 computers, then on PCs (MSDos based), Sun workstations running Unix, and also other platforms.

"Designer I" was ahead of its time; it included 2D and 3D drawing packages, a document handler modules, a Bill of Materials package and much more. The two principles (I was the technical director) expanded the team to half a dozen staff, and to this day I'm still in touch with customers who swear that we should have gone further.

Megatek Ltd (1988 - 1991)

Software support specialist, promoted to European Technical Support Manager. Megatek provided a number of highly specialised computer graphics products, mainy used in military and flight simulation products, and based on Sun Microcumputers cpu boards and operating systems. It was my role to provide (then later to oversee) technical support (before and after sales) for European customers, working through a distributor chain, and liaise with HQ in San Diego, California, representing the company's position to our customers, and ensuring that the engineers and managers in San Diego understood the customer's requirements and priorities.

First Alternative (1991 - 1999)

Initially a staff trainer, presenting courses on SunOS / Solaris, and C programming. Updating some course material, and writing other new material on topics such as DNS.

From 1995 onwards, worked as a contractor and then as a supplier to First Alternative, allowing me to develop Internet skills and courses as the net grew. Towards the end of my time with them, they were acting as a reseller of the courses I had written under the auspices of Well House Consultants, advertising them in their brochure, and handling booking confirmations, invoicing, etc, but leaving all the technical issues to Well House Consultants.

Well House Consultants Ltd (1995 - 2020)

Graham is the founding director of Well House Consultants. Initially set up as a tool for contract training work, it has now expanded to having its own training centre in Melksham, Wiltshire, with a schedule of public courses taking place several times a month, and private classes for single client companies at other times. Well House Consultants also undertakes contract work on web sites, specialising in providing front ends to server based applications in open source languages such as Perl, PHP, Tcl and Python. Graham Ellis remains the technical principal behind the training and contract work undertaken by Well House Consultants. To retirement - a gentle winddown from 2018 though to 2020.

TransWilts Community Interest Company (2014 - 2018)

One day a week, Graham was the Community Rail Officer for the TransWilts CIC, organising volunteers and promoting travel on the railway line though his home town as Melksham, where railway station use has grown from 3,000 to 75,000 journeys per annum.
---
---
Title: Graham Ellis - Background
Contact: enquiries@grahamellis.co.uk
Date: March 2021

This page: http://www.grahamellis.co.uk/back.html
Copyright © 2021, Well House Consultants Ltd